The problems Ironman is tackling
Treatments for prostate cancer are quickly evolving. Six new treatments have been introduced over the last seven years and several other therapies are currently under investigation. The problem we see is that these therapies are being taken up in different sequences and different combinations across the globe without a clear evidence of what might be most effective. In addition, we are just now beginning to better understand the molecular composition of the disease, providing for the first time the potential for personalised treatments for men with advanced prostate cancer.
We've set up IRONMAN across the globe, to recruit a diverse group of men from all walks of life. We're including patients from oncology and urology practices, academic centers, and community-based practices. Although IRONMAN is targeted towards men with advanced prostate cancer, we know that everyone experiences it differently. By reaching everyone on a global scale, we'll be able to understand more of the nuances in care. The project is now successfully operating in ten countries, and expect to include more countries over the coming years.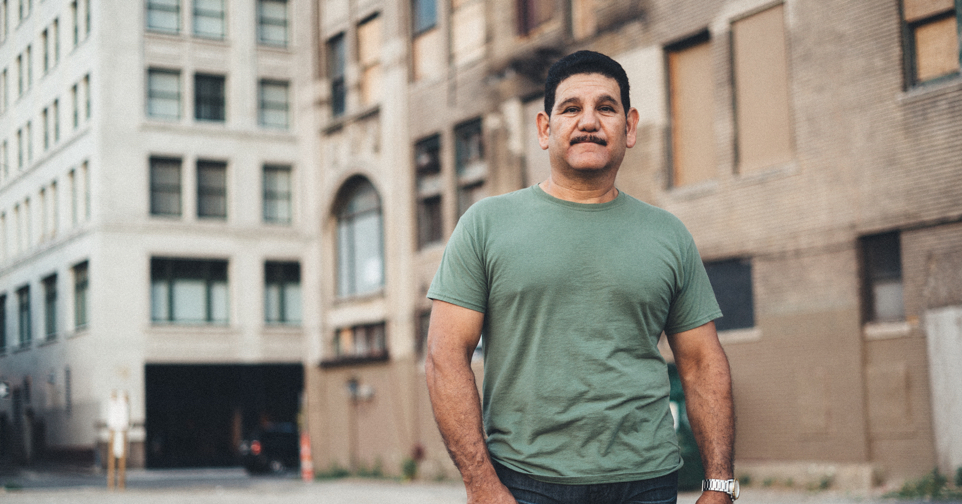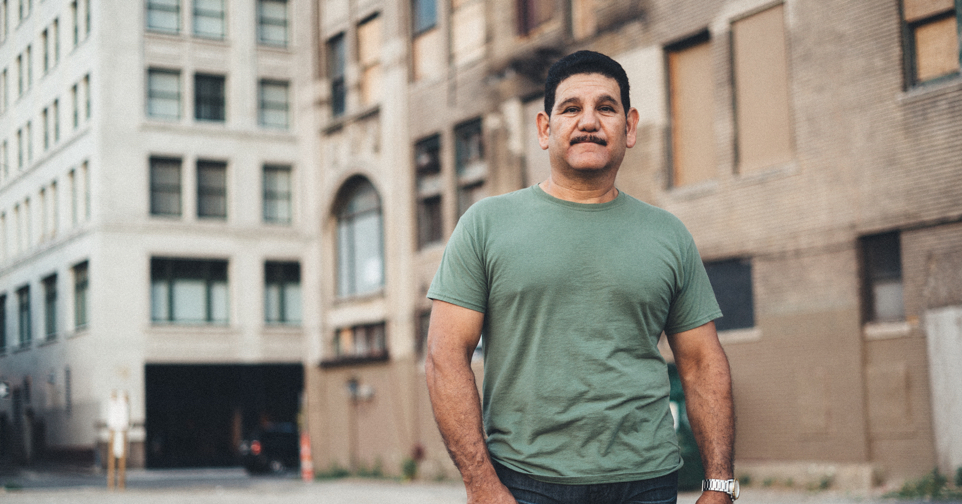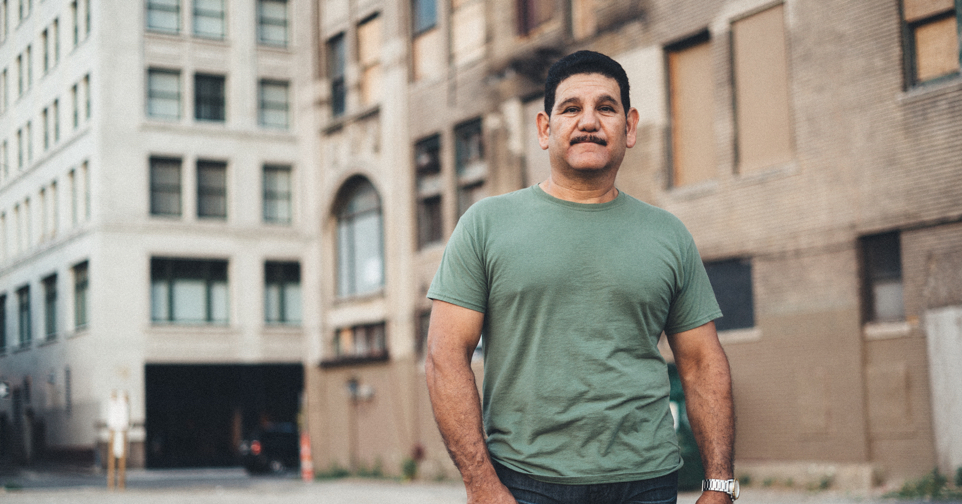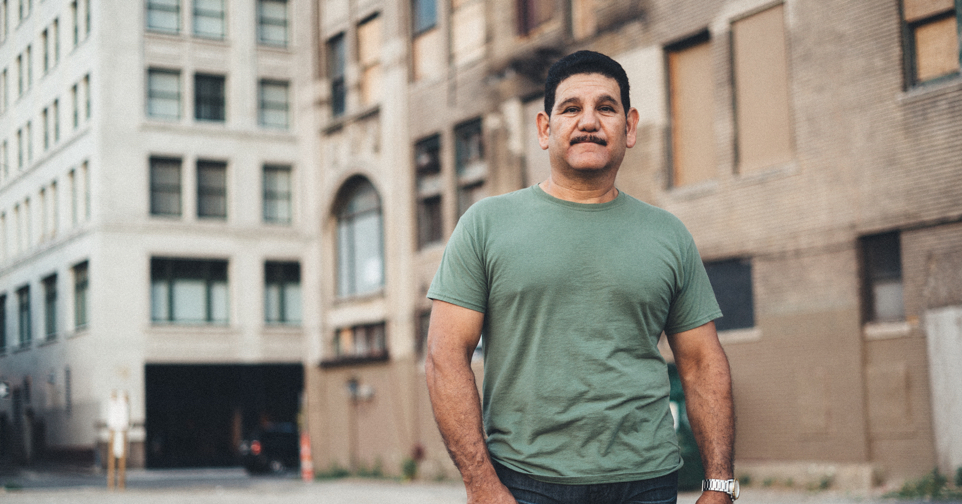 Our goal
To create a population-based global registry that describes variations in patient management, experiences and outcomes.
Our Objectives:
To describe the variations in patterns of drugs for treatment of advanced prostate cancer internationally, across populations.

To assess whether specific treatment patterns or sequences are associated with reductions in clinically significant events.

To identify associations between treatment sequences or combinations with overall survival.

To define the patient experience of men with advanced prostate cancer and identify unmet needs in their treatment.

To identify clinical and molecular subtypes that predict how men respond to treatment patterns that could be used to guide treatment decisions.

To understand the physician decision making process that underlies changes in treatments.
HEAR FROM OUR EXPERTS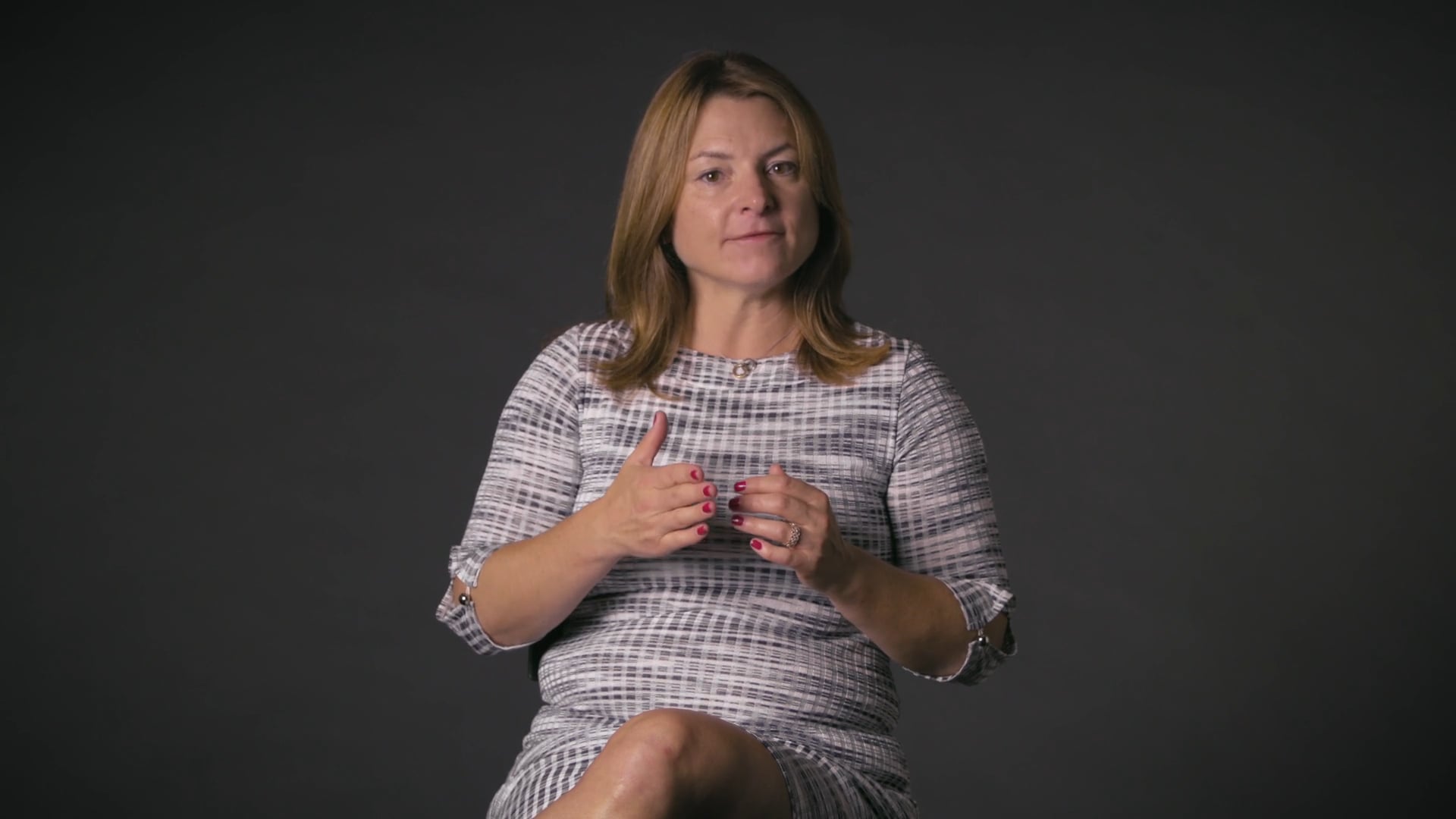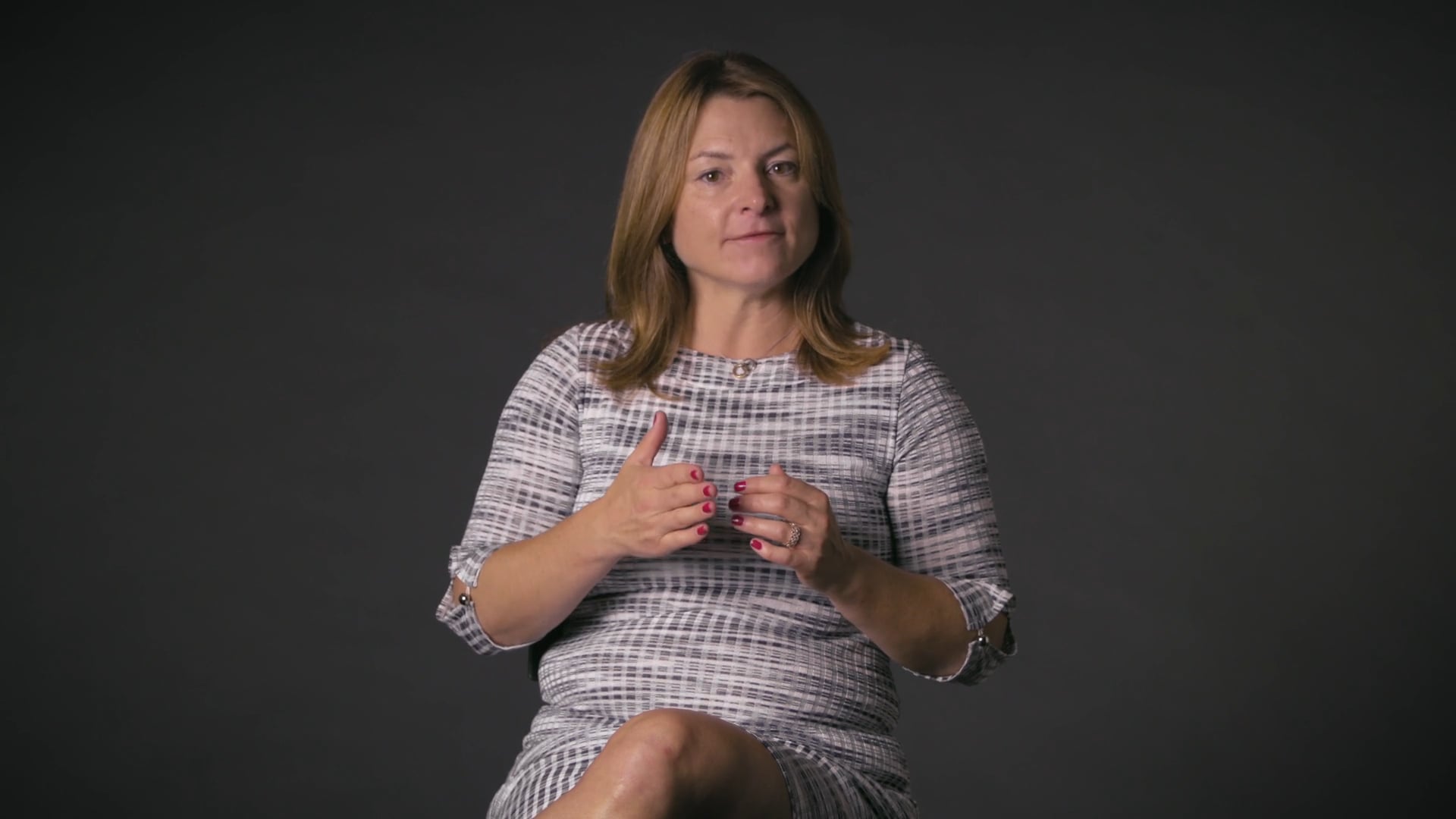 Ironman's Design
5,000 patients recruited. 10 countries represented.
After recruitment, patients will be followed for 3 years - minimum. We'll be looking at demographic, epidemiological, medical / oncologic history, clinical information, and Patient Reported Outcome Measures (PROMs). During follow-up, overall survival, clinically significant adverse events, clinical information, comorbidities, and changes in cancer treatments will be collected from the treating physicians. Blood specimen will also be collected at baseline and at treatment change and/or at each year.
Study schema: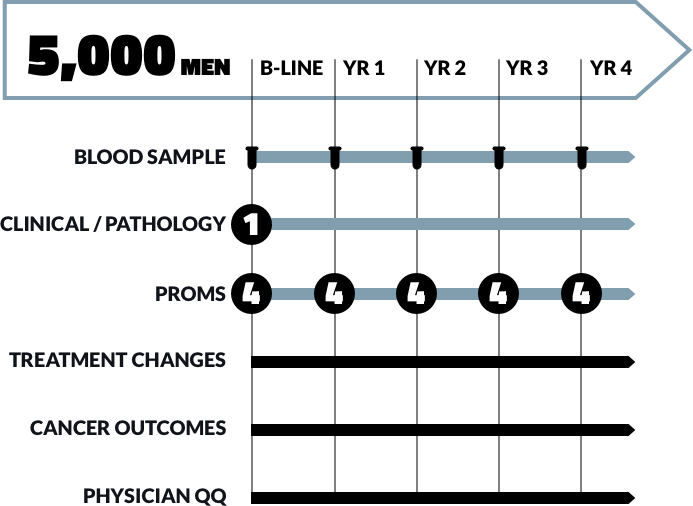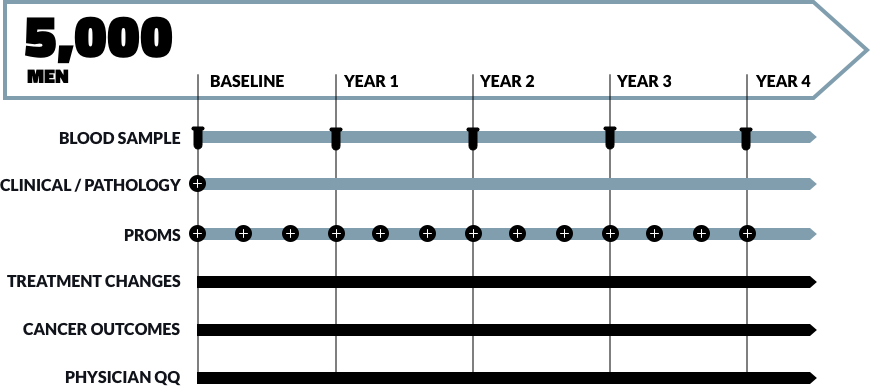 Endpoints:
The primary endpoints for the study will be:
Overall survival
Patient-Reported Outcomes / quality of life.
Secondary endpoints for the rest of the study will be:
Clinically significant events: hospitalization, cardiovascular events, secondary cancers, non-malignant bone fractures, other incident medical events
Blood biomarkers
Symptomatic skeletal events
Changes in treatment
Physician treatment selection.
Patient-Reported Outcome Measurements (PROMs)
We use PROMs/validated questionnaires to capture how men view their quality of life. It's all done via the online platform, TrueNTH, and men can log on at their convenience. We'll collect their responses every 3 months in the first 2 years, then every 6 months going forward.
The questionnaire will address:
Physical and emotional health
Fatigue and pain
Sleep, depression and anxiety
Memory and cognitive decline
Urinary and sexual health
Patient experience data will be collected every 12 months to better understand quality of care practices around the globe.
Biorepository
We'll establish a prospective blood biorepostory for all men in the registry. Blood specimens will be collected at baseline enrolment, and then again at the first treatment change or at one-year follow-up. Specimens will be collected, processed, and stored as plasma, cell free DNA, buffy coat / RNA for future biomarker studies. Samples will be stored in country-specific biorepositories.
Although it's out of scope for Phase I of IRONMAN, we'll collect informed consent from patients to retrieve archival prostate cancer biopsy specimens.
| | |
| --- | --- |
| Assay | Collection method at clinical site |
| Plasma | (1) Heparin tube |
| Whole blood | (1) EDTA |
| cfDNA & Buffy Coat | (1) Streck tube |
| RNA | (1) PAX gene tube |
Clinician Surveys
In order to undertake reasons for treatment changes, we will collect clinician questionnaires from all participating sites. Clinicians will complete a short questionnaire at enrolment, and at time of first change in treatment and/or one year follow-up, at each subsequent change of treatment, and discontinuation of treatment.
Knowledge Sharing
We want better outcomes as fast as possible. To make this happen, IRONMAN will provide an:
Immediate understanding of differences in treatment patterns in advanced prostate cancer across populations, ethnicities, and countries
Immediate understanding of treatment decision making by physicians in advanced disease
Immediate understanding of unmet needs of men with advanced disease
Immediate picture of changing PROMs across course of disease progression and variability by population and treatments
Evidence basis for planning randomized trials to test optimal treatment patterns and sequences that improve outcomes
Evidence basis for understanding disparities in outcomes to plan for effective interventions
Evidence basis for identifying new molecular markers that will improve outcomes for men with advanced cancer.